Journeys in Japan : A day trip from Tokyo pt 2 Slow Train in Springtime Chiba
The 2nd installment of our series on great spring destinations near Tokyo features a local train and flowers in the Boso Peninsula in Chiba Prefecture. The Isumi Railway runs from the coastal town of Isumi to the castle town of Otaki. Although the Boso Peninsula is only about 90-minutes by car or bus from downtown Tokyo, the landscape along the 30-kilometer railway route is rural and sleepy, with cherry blossoms and nanohana rape blossoms in spring. The charming yellow train cars that conjure up the post-War years are hugely popular with tourists, including young female railway fans. The railway's 14 stations have a retro feel, as well.
Our traveler on this episode of Journeys in Japan is Armenian writer and model Mari Khunoian, who studied Japanese at Moscow State University. The self-described railway enthusiast sometimes contributes articles to a Russian railway journal. She visits a morning market held at the Isumi Shrine since the Edo period (1603-1867) and enjoys the Edo atmosphere at the former castle town. Mari also meets a former electronics salesperson whose passion for the Isumi Railway led to a second career as a train driver, and stays in a traditional home converted into an inn. To top the trip, she enjoys the rape blossoms she sees along the way, which are served in a vegan sushi dish.
Isumi Railway
With a day ticket (1,000 yen), you can enjoy traveling at your own pace, stopping at any station.
Tel: (+81) 470-82-2161
www.isumirail.co.jp/
(in Japanese only)
Hakubido (Handmade Armor Workshop)
The workshop reproduces armor using cardboard and other materials. Many works are on permanent display. Visitors can try on armor. Reservation recommended. No admission fee required.
Address: 155 Kubo, Otaki, Isumi, Chiba Pref.
Tel: (+81) 470-82-2196
Otaki Castle
The former site of the castle used by Honda Tadakatsu, who is known to have been invincible in battles as one of the top 4 warlords loyal to legend Tokugawa Ieyasu. A building modeled after typical Edo-period castles houses a museum themed on Otaki and other castles in Boso.
Note: Closed on Mondays.
Tel: (+81) 470-82-3007
www2.chiba-muse.or.jp/?page_id=362
Nakanoya
An inn converted from a house built more than 100 years ago for a village headsman. The rate starts at 5,000 yen per night including dinner and breakfast.
Tel: (+81) 470-82-3607
www.otaki.or.jp/member/nakanoya/index.html
(in Japanese only)
Takahide Dairy Farm
The dairy farm is eco-friendly, and is popular for its milk and cheese products.
Tel: (+81) 470-86-2131
www.takahide-dairyfarm.com/
(in Japanese only)
Kurashow
The restaurant serves no animal products and is focused on using vegetables produced locally without chemicals or fertilizers. Lunch is relatively affordable, with set meals of the season starting from 2,500 yen. Reservation required for dinner.
Note: Closed for Monday dinner and Tuesday.
Tel: (+81) 470-82-4949
kurashow.com/ (in Japanese only)
Poppo no Oka
The direct-sales outlet for farmers uses retired train cars from across Japan as shops. The complex also has a café and a gallery.
keiranbokujo.com/nojo_isumi.html (in Japanese only)
Morning Market at Isumi Shrine
Isumi Shrine, in Otaki, hosts a morning market on the days ending with 5 or 0 every month. The shrine building is from the Edo period.
Tel: (+81) 470-82-3010
www.chiba-tour.jp/
The Isumi Sightseeing Organization has more information.
Tel: (+81) 470-62-6110
www.isumi-kankou.com/
(in Japanese only)
Access:
From Tokyo, it takes about 2 hours to Ohara, the eastern terminal station of Isumi Railway.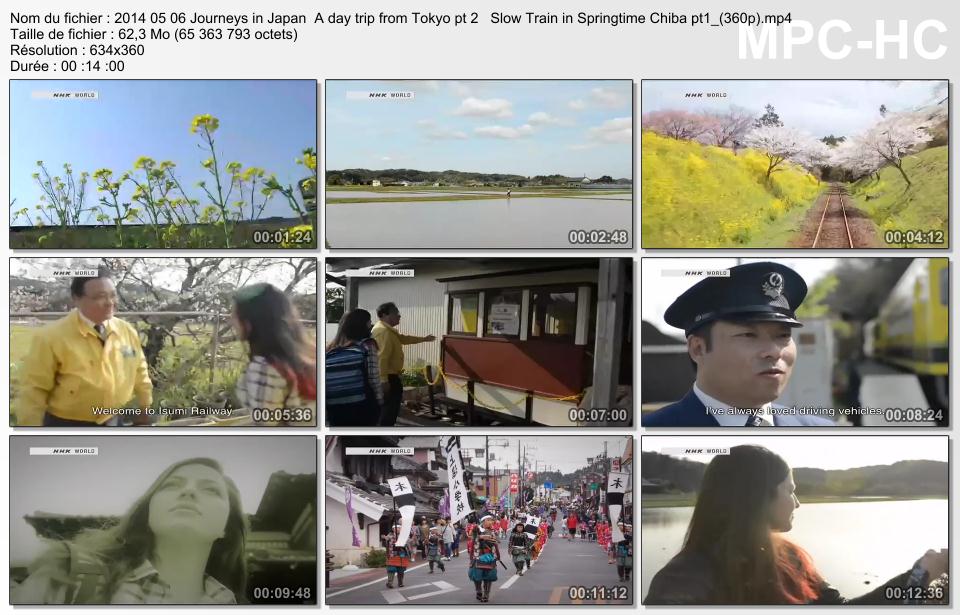 > VIDEO - http://my.mail.ru/mail/blackmercury/video/_myvideo/17.html